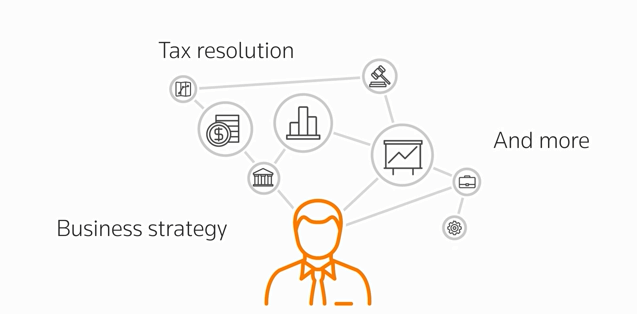 02:32
Thomson Reuters UltraTax CS professional tax software automates your entire business or individual tax workflow and delivers powerful, timesaving tools. You'll access a full line of federal, state, and local tax programs including 1040 individual, 1120 corporate, 1065 partnership, 1041 estates and trusts, multi-state returns, and more. Meet all of your tax workflow needs with a customized, end-to-end solution built on cloud computing, advanced data sharing, and paperless processing.
Answer a few questions to see an UltraTax CS demo video playlist customized for you
Explore video playlists
You don't have a custom playlist yet. Take the quiz now.


CLOSE X
1 of 3
What is the main reason you're looking for tax software on our website? Pick one.
2 of 3
What services does your firm offer to your clients? Select all that apply.
3 of 3
Which of the following features is most important to you? Select all that apply.
Your customized video playlist is ready
Thank you for taking the quiz! Based on your answers to the questions, we've compiled a series of videos to show you how UltraTax CS can benefit you the most. When you're ready to start watching, click the 'View playist' button below.
What you get with our powerful tax software
View input, forms, prior year input, diagnostics, and more on up to four separate monitors — all at once.
Start each year with a checklist that instantly pulls in a list of fields with your client's data from last year's return.
Automatically link returns using Tax ID numbers, so there's no need to manually link 1120S, 1065, or 1041 returns to the 1040 return.
Use e-file tools to monitor each step of the e-file process and ensure that returns are complete and accurate.
Use the Apportionment grid for business returns and Multi-State Allocation grid for Schedule C or K-1 income across states.
Add-on module for UltraTax CS that lets you easily gather electronic signatures for tax documents from anywhere.
Attracting the best clients is the basis upon which you expand your business. With UltraTax CS software, you can give clients what they want before they even know they need it.
Manual processes are prone to inefficiencies, but with UltraTax CS, you can automate your processes and do more returns in less time — with less impact on your staff.
You can be more proactive with your customers, delivering services that enable new ideas and strategies for business growth and engagement, with features like data mining, data sharing, and eSignature within UltraTax CS.
Receive immediate feedback within UltraTax CS to complete the return with confidence. Diagnostics are like a spell check for your tax returns — one that helps you prepare an accurate return faster.
See what your peers are saying
See what your peers are saying
Integrate UltraTax CS with these products and services to streamline your workflow
Offer clients the ability to share data and documents directly via private portals, automatically extract data from client source documents, or easily transfer account balances from our integrated business tax preparation software.
After the tax return is quickly prepared, reviewed, and e-signed, send the client copy of the return to their private portal, the firm copy to your document management software, and e-file the government copies to complete a fully paperless tax workflow.
Automatically track and record staff time at every step of the process, invoice clients through their accounts, and let them pay by credit card.
Easily prepare for next year's returns with timesaving tax planning software.
Check out the UltraTax CS roadmap to learn what your first year will look like with us
Two ways to use UltraTax CS in the cloud
Our hosted solutions offer remote software access, relieving you of IT burdens and providing industry standard security for you and your clients' data.
Take a look at some additional UltraTax CS resources