ONESOURCE Determination Implementation Partner Program

Implementation Partner Program
Provide a best in class sales tax solution to customers while expanding your business and increasing revenue.

Become a ONESOURCE Determination Implementation Partner
Partnering with Thomson Reuters means partnering for success. Differentiate your company by adding a new solution to accelerate customer and sales growth. Empower yourself with exceptional training to solve your customers' tax needs through easy-to-implement, innovative tax technology.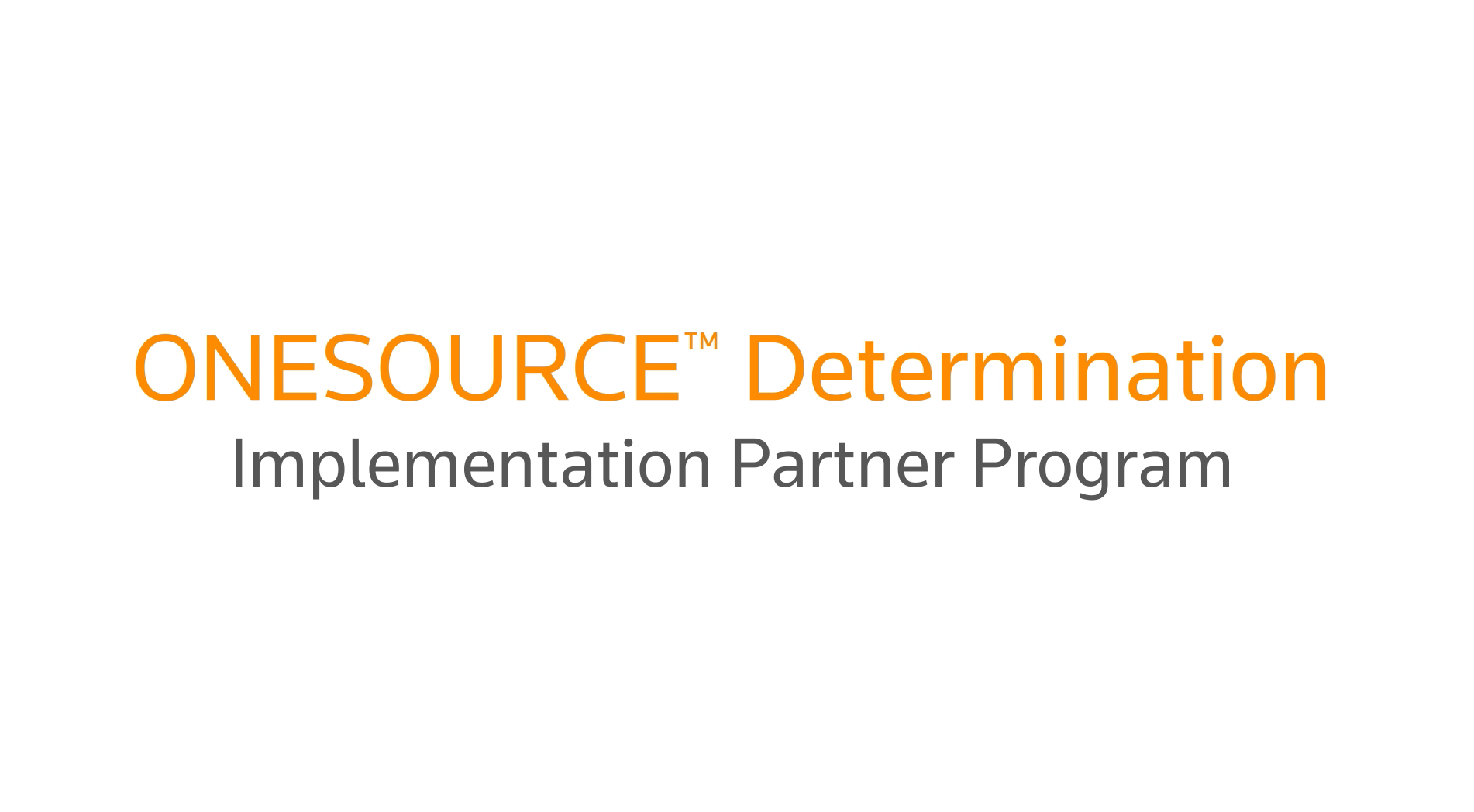 02:17

Help your customers automate and correctly calculate sales and use tax, VAT, and GST with ONESOURCE Determination
Why partner with ONESOURCE
Grow your business through expert-led training.
Help customers transform their business through cutting-edge technology.
Turn the complexity of tax into a new opportunity for your business.
See what our partners are saying
Choose a partner program custom-tailored to your needs
ERP and financial applications
PROVIDED BY THOMSON REUTERS
Frequently asked questions
There is a nominal cost to enter the program. That cost is specific to your level and type of partnership with ONESOURCE. We have several programs, each with a different fee structure.  Select the partner program of your choice on our site for specific pricing.
We offer an aggressive referral schedule to our partners. These referrals are uncapped — that means the more you sell, the more you can make. We also offer partners the opportunity to make additional money on services.
We pay partners 90 days after the sale closes.
We work with our partners to create a plan to support your ONESOURCE marketing efforts. It's a chance for us to learn more about your business and provide you with the tools and collateral you'll need to successfully sell ONESOURCE. 
The training requirements are a way for us to ensure that every implementation of ONESOURCE is completed and meets our professional services team standards. We encourage you to train as many people as you can. If you have a small organization and 100% of them are trained on ONESOURCE, we view this as a successful commitment to working together.
Our contracts last for 12 months and are set to auto-renew annually. Both Thomson Reuters and the partner have the opportunity to re-evaluate the partnership on a yearly basis. 
Absolutely. We understand that ONESOURCE may not be the right fit for every customer. We also understand that you want to provide your customers with options. Several of our partners also partner with other tax providers. However, in many of these cases, our product's superior performance and outstanding support drives customers to select ONESOURCE over other tax solutions.